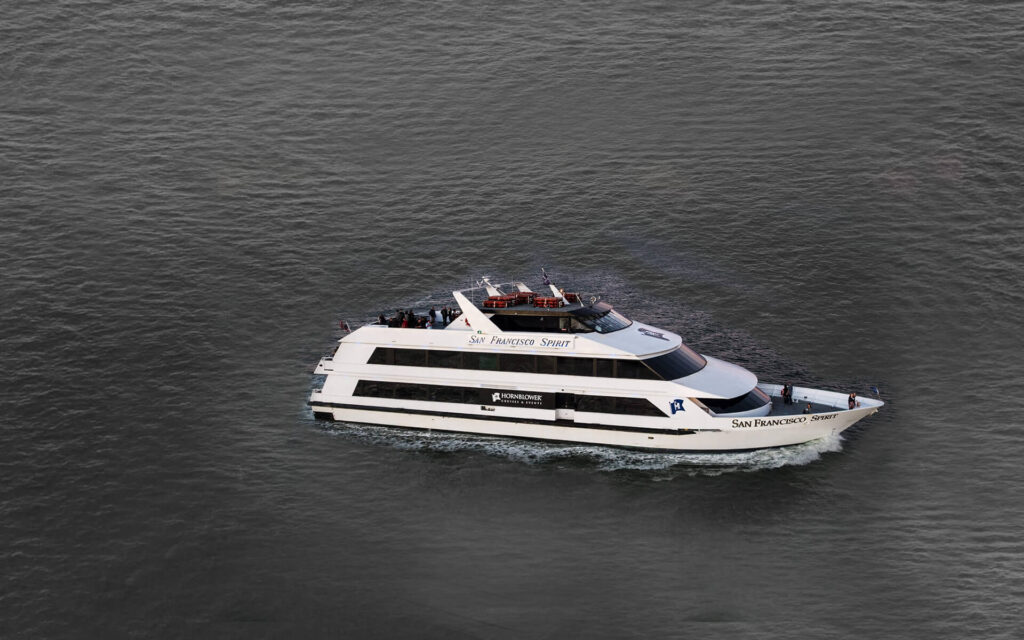 SF Labor Day Weekend Pier Pressure Yacht Party

Celebrate your San Francisco Labor Day weekend with views, music, and drinks all night long.
Celebrate Labor Day Weekend in San Francisco with a party experience on the water aboard the San Francisco Spirit Yacht. Sail through the Bay Area with some of the most vivid views of Treasure Island, Alcatraz, Bay Bridge, Nob Hill, Golden Gate Bridge and magnificent SF skyline!
The San Francisco Spirit Yacht is a beautiful 150 ft. luxury yacht built to sail in comfort. This spacious yacht has 3 decks, 3 bars, 3 dance areas, and an expansive outdoor bow and sky deck to enjoy the views.
Pier Pressure SF - Labor Day weekend cruise will have a 2 live DJs on board keeping you and your friends moving on the dance floor while the city skyline passes you by. Party on the dance floor and get a drink in your hand with the fully stocked bars on board.
The Perks of this VIP Cruise:
Breathtaking views of the Bay Bridge, Golden Gate Bridge, Alcatraz, and the spectacular San Francisco Skyline & more..
2 DJs, 3 decks with 3 dance areas playing the hits of today with House, Top 40, Hip Hop
A gorgeous fun filled crowd
3 fully stocked & professionally staffed bars (all major credit cards accepted on board)
Spectacular group saving packages
** Table Service Reservations Available. * Table reservation options are listed under ticket information section. Bottles start at $325++
Celebrate your San Francisco Labor Day weekend with views, music, and drinks all night. Get tickets now and prepare for an experience you won't forget, but will most likely want to indulge in again.
Current Schedule
Check-in begins at: 3:45 p.m.
Boarding starts: 4:00 p.m.
Cruise: 5:00 p.m.
Disembark: 8:00 p.m.
Check-in / Boarding Location: Pier 3, Hornblower Landing (x-street: Washington St)
Some Info to Know:
Parking: Please allow plenty of time to find parking. Attend parking lot available at Pier 3, on the Embarcadero. Additional parking lots avail: On Davis St. btwn Broadway St. & Vallejo St, on the corner of The Embarcadero and Broadway St, and On The Embarcadero and Washington St. (Directly across from Pier 3).
Make sure to give yourself plenty of time to find parking. Bay Area Nightlife and Hornblower Cruises & Events are not responsible for any parking lots.
Please DO NOT Drink & Drive. Use Ride Share Apps: Lyft or Uber. No refunds or exchanges if you miss the boat.
Dress Code: White Attire Required. Dress in Your Best; Ready to Impress!
Age Requirement: Must be 21+ to participate. Prices may increase based on supply & demand. All sales are final; no refunds or exchanges.
Please Note: This party cruise is expected to follow CDC Guidelines with social distancing and masks if & when necessary. All staff will have necessary PPE for excellent clean service. If event is canceled due to Covid-19, you'll be refunded.
Photography/Multimedia Disclaimer
By attending our event, you agree to the following:
Allowed: Non-Professional Recording Equipment (Point & Shoot Cameras, Flip Video Cameras, etc.) Cameras for personal use only.
Not Allowed: Professional Recording (Photo, Video, Audio) Equipment (NO Detachable Zoom Lenses, Tripods or Other Commercial Equipment without the written consent of VIPNightlife.com.
The VIPNightlife.com reserves the right to use any photograph/videography or other, similar reproductions or recordings taken at any event hosted, or any affiliate of VIPNightlife.com. VIPNightlife.com also reserves the right to use any photograph/ videography without the written permission of those included within the photograph.
Photographs may be used in publications or other forms of media produced, used, or contracted by VIPNightlife.com. This includes, but is not limited to: magazines, websites, social media, blog, presentations and other VIPNightlife.com marketing materials or other, similar reproductions or recordings.
A person attending a VIPNightlife.com event who does not wish to have their image recorded for distribution should make their wishes known to the photographer and or event organizers.
Any person or organization not affiliated with the VIPNightlife.com may not use, copy, alter or modify VIPNightlife.com photographs, graphics, videography or other, similar reproductions or recordings without the advance written permission of VIPNightlife.com.
FOR ALL PHOTOS FROM OUR PAST CRUISES CLICK HERE
Additional Info
Purchase Policy
Credit Card & ID:
Support:
Purchase Policy:
Event Booking:
Alcohol, Seating, Food:
Event Cancellations:
No Refunds:
Release of Liability:
Indemnity:
Collections & Legal Action Against Debt:
Arbitration Agreement:
Severability:
Thank you for your purchase!