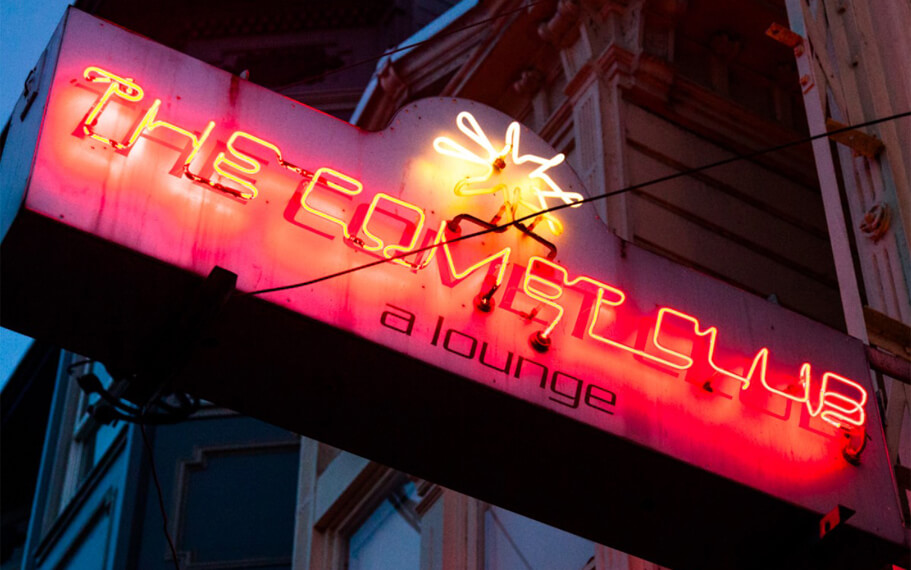 St Patrick's Day Pub Crawl Party San Francisco

We're back in San Francisco for our Official St Patrick's Day Bar Crawl! No cover, access to drink specials & best party-goers in Bay Area.
St. Patrick's Day Pub Crawl Party San Francisco
Thu, Mar 17, 2022, at 5:00 PM to 11:00 PM PDT
Don your green, grab a brew, and commence with Leprechaun jokes on the biggest St. Patrick's Day Pub Crawl Party in the Bay Area with Drink Specials & more!!
Spring is coming and so is our Official St Patrick's Day SF Bar Crawl Event! We are proud to be back in San Francisco for our biggest bar crawl party of the year with entry into the top-rated bars in Bay Area on Thursday, March 17th, 2022.
Enjoy the best venues and tastiest drink specials with 100's of other crawlers attending our event!
The Highlights
Registration begins at: Comet Club SF 5-9pm | Party until 11pm
Enjoy free entry to multiple Bay Area hot spots
Experience the party scene with a professional party leader
Discover some of the city's best bars & clubs, with all cover charges included
Have a great night out with other fun travelers
Enjoy exclusive drink deals throughout the night
🚨 Featured Participating Bars 🚨
Comet Club
The Brixton
Del Mar
Blue Light
Silver Cloud
This Bay Area event happens every year; and it is a must-attend!! Don't forget to Wear Green or Get Booed!!!
How It Works
Buy your ticket for the day you want to go .
Check-in at Comet Club SF during the following times: 5-9pm, Saturday 03.17 (Do not be late, no exceptions, you must check-in by 9pm)
At that point, you will be given a map with the bar locations in Bay Area and when they're participating in the drink specials.
Must be 21+ to participate. Please bring a valid photo ID.
Do Not Drive: Use Ride Share Take a cab, limo, walk or arrange designated driver.
Be kind and courteous to all, don't forget to tip your bartenders & Have Fun!
Full Disclaimer
Must be 21 years old to participate; valid State ID required. All Sales are Final. No refunds or exchanges. Prices are subject to change while supplies last.
Advertised drink specials are subject to change and may vary at certain venues. Actual drinks offered are at venue's discretion and subject to change. Participating venues & advertised times are subject to change. Each venue may only participate in the drink specials for a 3-hour period.
State Covid regulations may apply.
PubCrawls.com promotes safety and urges all participants to drink responsibly.
Participants must bring their Print At Home Ticket to the registration venue. No refunds. All sales are final. * Must present your ticket at check in before check in time ends to receive your wristband. *
If a venue is at capacity then you may have to wait until person exit prior to entering. There will be multiple venues participating in the drink specials at anytime that you can go to. Do not be late for registration.
Please Note: No credit or refund is due as a result of ticket purchaser or any person in the party contracting Covid-19 or a variant alike. By purchasing tickets to a VIP Nightlife Event:
You agree that you are taking the full financial responsibility for your tickets if you contract Covid-19 or variants alike.
You also agree, that you will not attempt to attend event with any prior knowledge of contracting Covid-19.
You may transfer your tickets for any reason to another person by having the ticket purchaser emailing our customer service within 24 hours of the event info@vipnightlife.com with ID and copy of CC to transfer to another customers name & their email address.
SF Health Order Mandate Info
This pub crawl is expected to follow CDC Guidelines with social distancing and face mask coverings. The health and safety of our guests and staff are very important to us; and we appreciate your cooperation.
Our staff will be taking stringent measures to maintain the highest standards of health and hygiene at all times so you can enjoy our San Francisco Pub Crawl St Paddy's Weekend Party at ease.
Proof of Full Vaccination Required: All patrons entering any indoor bars, nightclubs or wineries to show proof of full COVID-19 vaccination. Acceptable Proof of Vaccination:
The white CDC COVID-19 vaccination record card
The yellow World Health Organization vaccine card
Documentation of vaccination from a health care provider
A California Immunization Registry (CAIR2) vaccination record
A digital vaccination record issued by California Department of Public Health
A digital vaccination record from an approved company like Healthvana, Carbon Health, CommonPass, CLEAR Health Pass or VaxYes.
Any persons attending indoor or outdoor mega-events who cannot provide proof of full vaccination is required to provide proof of negative COVID test within 1-day (if antigen test) or 2-days (if PCR test) of the event. Failure to meet this requirement may result in denied entry into the Venue; no refunds.
Face Coverings Required: All attendees are required to wear face masks in all public indoor settings (including ordering at a bar or dancing); regardless of your vaccination status. Face masks may be removed for all outdoor spaces; and when actively eating or drinking.
We apologize for any inconvenience. Our first priority is always the safety of our staff and guests. If you have any questions and or concerns, feel free to contact us.
We look forward to welcoming you on the San Francisco Pub Crawl St Paddy's Party. Let's have fun and party responsibly. Don't forget to thank event staff (and tip your bartenders).
Can't decide which boozer to hit this St. Patrick's Day holiday? Not a problem. Get your green attire on point and head out to some of the best & biggest St. Patty's special events for a day and or night full of fun in the city you're living or traveling to. Learn more.